Ashcombe Maze and Lavender Farm -located on the Mornington Peninsula, south of Melbourne and is about a 90 minute drive. There are plenty of things to do, from beaches to cool climate wineries and farm gate properties selling their produce. Popular for sampling and purchasing Victorian gourmet treats, is the Redhill Market.
You'll find plenty of Bed & Breakfast properties if you wish to spend a few days in the region.
As Australia's oldest and most famous traditional Hedge Maze now standing over 3 metres high & 2 metres thick. With four mosaic flags to find in each half of the hedge maze, the hundreds of metres of winding paths take you through the South Maze into the Centre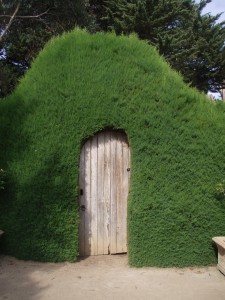 Garden before you tackle the North Maze. While not overly complicated it does take a little while to make your way through (some people take longer than others!) The North Maze is a totally different layout to the South Maze, so any tricks you worked out while making your way through the first part, mean absolutely nothing in the other!
The Ashcombe Hedge Maze was planted in the 1970's with more than 1000 Cypress (Cupressus macrocarpa) plants. They are planted at around 1 metre intervals, and each year the hedge gets a bit bigger (and the paths get a bit narrower!) Being a drought tolerant plant the hedge only needs irrigation in extreme heat waves. It now stands more than 3m high and 2m thick.
Ashcombe Maze is open everyday (except Christmas Day) from 10am to 5pm.
What's underneath the Onion Skin:
Other things nearby – Redhill Markets, Mornington Peninsula Wineries
Suburb/Neighbourhood: Mornignton Peninsula
Food:  The maze has its own café Ashcombe Café
How to get there: Melways reference  Map  256 E4
By Car:  
The easiest way to get to Ashcombe Maze is to follow the M1 (Monash Freeway) from Melbourne and take the Mornington Peninsula/Hastings exit. This will lead you onto the Westernport Highway (A780). Follow this Highway to Hastings, then follow the (C777) road towards "Flinders". Travel through the small villages of Balnarring and Merricks and look out for the brown tourist Ashcombe Maze signs to guide you to Shoreham which is located 7km before the township of Flinders.
Alternatively if you commence your journey from bayside or the southern suburbs of Melbourne take the Nepean Highway (3) to the Mornington Peninsula Freeway (11) and at Frankston you will pass the BP & Shell service stations and at the next roundabout you veer left into Frankston Flinders Road (C777) and 4kms further on, turn right into Coolart Road (C785) and follow the signs to Ashcombe Maze and Flinders via Balnarring.
Location:  15 Shoreham Road, Shoreham on the Mornington Peninsula