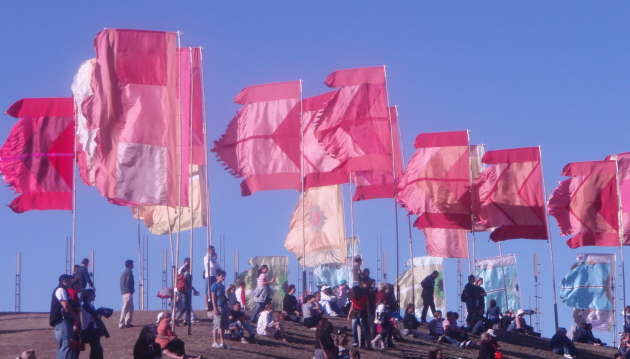 Whenever you are travelling you'll always stumble across a tour guide shepherding a group of tourists on how to navigate the city or attraction. If you don't want to start following a flag the moment you arrive in Melbourne, here are some basics to get you started until you are ready to start chatting to the locals or join an organised group.
MELBOURNE VISITOR CENTRE – Discover the beauty, sophistication and diversity of Melbourne at the Melbourne Visitor Centre. Conveniently situated underneath the Townhall on the corner of Swanston and Little Collins Streets. Make the Melbourne Visitor Centre your first stop when you come to town. Managed by the City of Melbourne, the friendly staff are experts in travelling and experiencing Melbourne and Victoria. They love their city and can't wait to help you get the most out of your visit.
On some of the main thoroughfares like Swanston Street and Bourke Streets, you may come across one of the Volunteer City Ambassadors. They're approachable, friendly and equipped with extensive local knowledge, dressed in a red uniform they are usually working 10.00 am – 4.00 pm.
FEDERATION SQUARE – Meet at Federation Square. Everyone else does. Ever since this landmark cultural and entertainment destination was opened to the public, Melburnians and visitors have been gathering here. Locals have embraced Fed Square as a true reflection of their city, with rich cultural experiences, a diversity of places to eat and drink, unique shopping and a wealth of information to welcome visitors. Fed Square is where cultures meet, friends meet, minds meet and worlds meet. It is no wonder all of Melbourne is saying, 'Meet you at Fed Square. Also, a great spot to chill and digest some of the information you have picked up from the Visitor Centre, FED' Square has free WIFI, other WIFI spots around the city.
MELBOURNE AIRPORT'S- TULLAMARINE & AVALON – The are a number of travel options in our post on 'How to get to and from Melbourne Tullamarine Airport' or you could browse the Melbourne Airport site itself.
FLINDERS STREET RAILWAY STATION – is the central railway station of the suburban rail network of Melbourne. It is on the corner of Flinders and Swanston Streets next to the Yarra River in the heart of the city, stretching from Swanston Street to Queen Street and covering two city blocks. The Melburnian idiom "I'll meet you under the clocks" refers to the row of clocks above the main entrance, which indicates the departure time of the next train on each line; another being "I'll meet you on the steps", referring to the wide staircase leading into the main entrance of Flinders Street Station. Both are popular meeting places as it is at the intersection of two of the city's busiest thoroughfares. The station is listed on the Victorian Heritage Register.
PUBLIC TRANSPORT VICTORIA – All you need to know about Public Transport, MYKI tickets, timetables and using the network.
TAXI CABS – Melbourne cabs are easy to spot they are all yellow like the famous cabs of New York. A legacy of one of the Victorian Premiers Jeff Kennett and improvement to the Taxi industry, you'll also find drivers have to wear a uniform and ID at all times.
You can hail a cab in Melbourne, look for those vehicles with the rooftop light illuminated, indicating the taxi is available. Like most other cities you can also book a taxi, use 131CABS. If a cab drives past empty it is probably because it's booked.
Cabs often wait in designated ranks around the city and suburbs and you will often find them near the driveway to major hotels. When all else fails a travel tip is to walk into one of these hotels and then out to get the doorman to assist and flag a taxi for you.