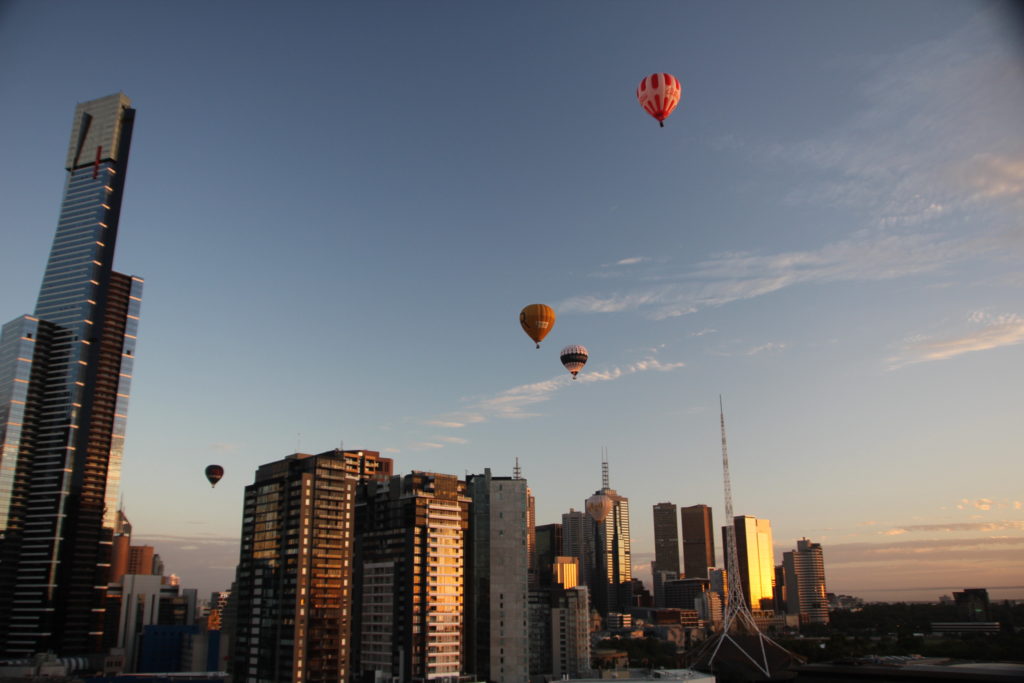 Melbourne summer sunrise, a frequent city view any time, often with as many as nine balloons aloft.
INSIDE TOURIST INFORMATION & KNOWLEDGE
So why do this – An early guest staying with us, on their departure sent us a link to their blog and the posts he'd done on Melbourne. I started reading and following the links, as you are want to do. When reading the blog I soon found myself sifting through the pages establishing how and what they had done – they had me hooked!!
It wasn't too long that I was thinking of the things that made up my town, Melbourne, and dreaming of the stories and yarns I would tell. My mind was racing of what I needed to do to organise a site. The planning seemed endless and at times I have wondered if I was ever going to get anything written. [Already I have learnt that to write, it'll take some structure at the keyboard].
The plan is – to get some exercise through this process, whether it be a bike ride or walking, delving in to Melbourne's neighbourhoods to unpick some of the weave of the city and draw out the threads, from a local's perspective. Tis is what I want to share, what makes up the fabric of my city – Melbourne, through my posts, embellished with some great photography.
At last I have got a shell I am really happy with [Wordpress Twenty Fourteen]. You'll find my posts on the MELBOURNE LOCAL page.
Aimed at anybody who is inquisitive – there will be a focus on helping the Melbourne visitor and tourist, but hey there is nothing to stop a resident being a tourist and see another part of their own town. As 'Melbourne Local' grows the vision is that the basket will contain enough threads, sufficient for many short experiences and for the visitor to weave together their own Melbourne experience be it a couple of hours or days. I hope that you walk away warm from your experiences, becoming Melbourne's newest ambassador with your own yarns to share.
I'll try – to keep it honest and keep it simple. Endeavoring to add posts weekly in the initial stages, whilst getting the blog and the site established. As I become more skilled and not wanting to be over ambitious, this may become more frequent.
One last thing – if you are not sure where something is, what to do next or how to get to something – why not walk up and "Ask a Melbourne Local". I personally like to think people are basically honest and willing to be helpful.
If you are a Local and see someone pondering over a map, why not ask "Need some help" you never know how it comes back to you